WEEKLY SUN SIGN TAROTSCOPES
WE ARE CLOSED UNTIL 6TH MAY 2016 AND OUR HOROSCOPES WILL NOT BE UPDATED UNTIL WE RE-OPEN

These are free general Tarotscopes for entertainment purposes only. Therefore no further interpretation or analysis will be given, nor correspondence entered into.
Each week we consult the 78 Tarot Cards and draw a card for each of the 12 zodiac signs. So, what do the Tarot cards have to tell you?
Sunday 10th - Saturday 16th April 2016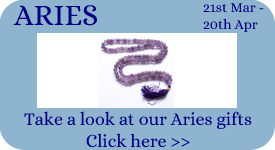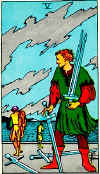 5 of Swords - In spite of everything, you will confront issues head on and tackle every crisis one by one. Consider the source, and avoid dwelling on the negative side of things. Don't allow an inconsistent or indecisive attitude to get the upper hand. Use positive affirmations, and count your wins, no matter how small. You will be longing for love but won't settle for someone who sells you short or doesn't return your affection in kind.
---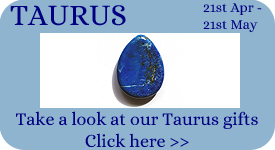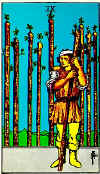 9 of Wands - You should hold onto your current assets and circumstances because you may soon be faced by a lot of demands for your time or money. For instance, you should conserve your energies and hoard your cash, and understand that this is not a good time to make major changes to your life such as moving house or changing jobs. In the meantime, you should keep calm, relying on your strength of character and your determination to succeed. Your position is strong and your opposition will be defeated. However, avoid over-confidence and haste.
---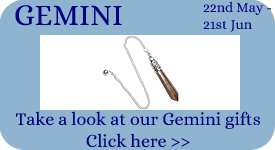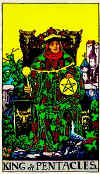 King of Pentacles - You will be completely absorbed in new projects and activities and if you have been estranged from a friend or loved one, you will be reunited or reconcile your differences. Be patient, persistent and diligent in your efforts. Expect a romantic impasse. A lover is not going to act or call as expected and it is going to annoy you because you will feel that it was thoughtless, inconsiderate or irresponsible
---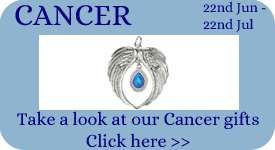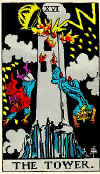 The Tower - You will be working on new projects, and something that you thought was lost or impossible to recover will suddenly be found or reinstated. An unexpected event will shake your trust in the one you love, or your love for that person. There could even be a love affair. Remain calm in the face of unexpected changes or assaults, and listen to the inner voice that assures you that everything is going to be all right.
---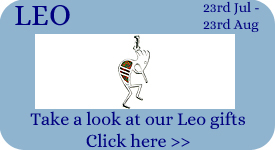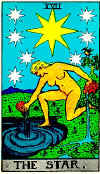 The Star - This is the wish card of the Major Arcana, telling you that a dream is about to be realised or a particular area of your life will soon bring you fulfilment and happiness. You must be positive, have hope and trust that all will be well. If you have recently been ill, unhappy or depressed, you will soon feel much better. It brings equally good news if you are awaiting the results of medical tests, an exam result, a job interview or anything else that's worrying you. This card can also represent your creativity and artistic abilities, suggesting that you can use these talents in new ways that will bring you immense satisfaction. In addition, it's an excellent card to appear if you are embarking on a new relationship, because it shows that happy experiences and opportunities are on the way.
---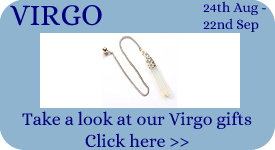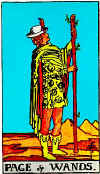 Page of Wands - You will take stock of your life and analyse issues from a different angle, but you will think about things, instead of actually doing them, until the right moment to act approaches. Pursue philosophical or intellectual hobbies, work, or lectures and get things settled or down on paper up front. That way there won't be any unpleasant surprises, and you won't end up sabotaging yourself. You will fear that you and your lover are not going to get together or that, even if you did, it would just be a superficial relationship with no real depth or giving of yourselves.
---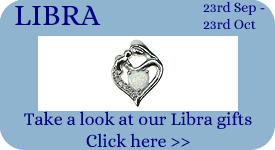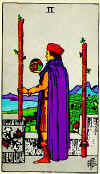 2 of Wands - This card represents someone who knows that they're doing and who is being given a tremendous opportunity. This may be you or a person you'll soon be dealing with. Either way, this is someone who knows they're in a strong position and acts accordingly. There could be a business partnership on the way, or you may soon start negotiating over a property deal. You are responsible and mature. Your force and will turns ideas into reality. Your motives are noble.
---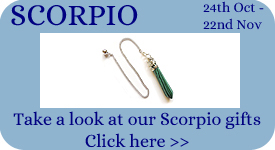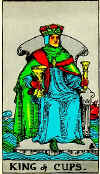 King of Cups - This card may represent a man who is important to you - he is kind and considerate, although at times he may feel uncomfortable about showing this sensitive side of his personality. He is probably a professional and commands plenty of respect, but not a lot of affection. As a result, this card may be telling you that you need to get more in touch with your feelings.
---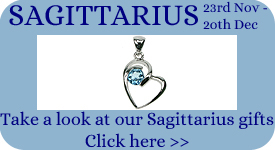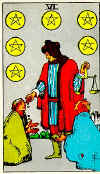 6 of Pentacles - Good financial news is on the way. If you are currently owed money, this card suggests that the debt will be paid. It can also appear when you are about to inherit some money or property, or when someone is going to make you a lavish gift of some sort. Alternatively, you will feel generous and benevolent, and will gladly share your good fortune with friends and loved ones.
---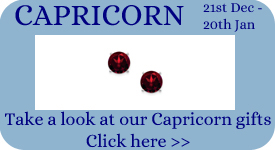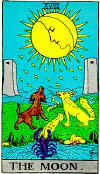 The Moon - A new trend or group effort will begin, and things will work out after all. A new friend may also be found. You are going to be disillusioned and disappointed in a relationship you thought would work but didn't. Be neutral, and follow your inner light.
---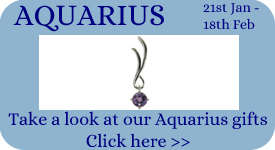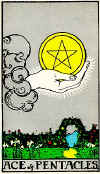 Ace of Pentacles - You will take action to repair, correct or reinstate yourself or your affairs, and you will also embark on a pleasurable pursuit, shopping spree or new business venture. You will be thinking about romance and will want to have a significant love affair. If already involved, you wish your partner would be more loving or responsive. Keep an optimistic attitude and let time be the deciding factor. Also, take time out to play, and don't be afraid to spend money on pleasurable pursuits or enjoyable commodities.
---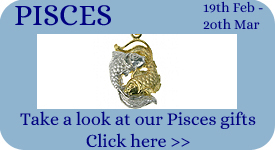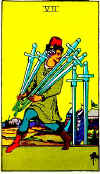 7 of Swords - You will begin to see things as they really are in terms of objectives and will establish a precedent. And if you have been working too hard, you will take some time off for a little R-and-R. Maintain mental or emotional balance, keep things in their proper perspective, and take things slow and easy. If you're having a problem, don't struggle with it. Take time off or just drop it for now. An admirer will want to see you and will phone or visit.
---
Legal Disclaimer: Under UK law, horoscopes and readings are deemed to be for entertainment purposes only and do not represent legal, financial, medical or other specialist advice.
Shop our Tarot Cards and Accessories ... [see all]