WEEKLY SUN SIGN TAROTSCOPES

These are free general Tarotscopes for entertainment purposes only. Therefore no further interpretation or analysis will be given, nor correspondence entered into.
Each week we consult the 78 Tarot Cards and draw a card for each of the 12 zodiac signs. So, what do the Tarot cards have to tell you?
Sunday 29th November - Saturday 5th December 2015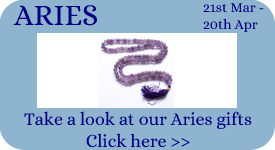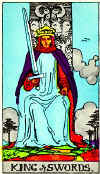 King of Swords - You'll cut through adversity, see things the way they really are, and set things straight in your personal affairs. Also, someone you've been putting off or stringing along is going to call. Dwelling on a past romance only causes pain, so release it and let it go. Still your unruly thoughts, and don't respond in a preconditioned way. Be impartial, unpredjudiced, and nonjudgemental.
---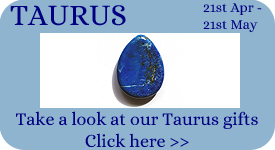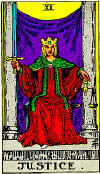 Justice - Change will come, but a shadow of isolation or unhappiness will remain because some personal or essential ingredient is still missing. Wait for time to take its course. You will review the quality of your love life or relationships and will realise that's exactly what you want - quality, not quantity - and so far it's been the other way around
---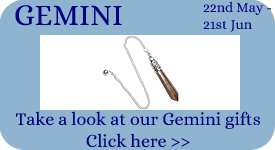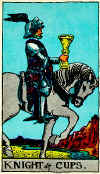 Knight of Cups - New opportunities will soon arrive - they'll probably be connected with artistic ventures, an emotional matter or a spiritual quest of some sort. Your enthusiasm invites opportunities and good prospects. You are artistic but easily bored at the moment. This card may also symbolise a person who is important to you at the moment - it's probably a man who is sensitive, friendly and fond of you. He may be creative and idealistic but is not known for his practical attitude to life
---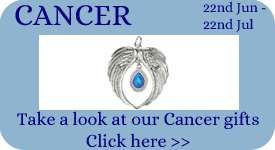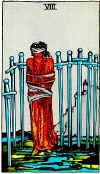 8 of Swords - You are trapped in a difficult situation and feel there's no escape. In fact, you're paralysed by your own fears and are not nearly as restricted as you imagine. The problems you face are not as bad or insoluble as you think but you're too frightened or upset to consider them rationally. However, you will soon see the way forward and will be able to break free from these limiting conditions. Patience and scrupulous attention to detail will help you overcome the problems you face
---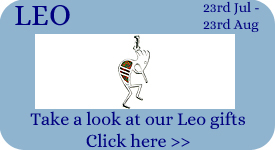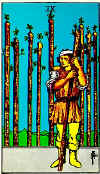 9 of Wands - You should hold onto your current assets and circumstances because you may soon be faced by a lot of demands for your time or money. For instance, you should conserve your energies and hoard your cash, and understand that this is not a good time to make major changes to your life such as moving house or changing jobs. In the meantime, you should keep calm, relying on your strength of character and your determination to succeed. Your position is strong and your opposition will be defeated. However, avoid over-confidence and haste
---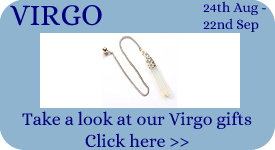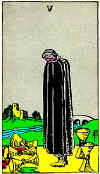 5 of Cups - You will take charge of situations and assume more control or accountability for yourself and your well-being. You will seek but not find, and your heart will know that it would be an empty victory to accept a relationship that is contrary to your nature or to be with someone just to satisfy the urgings of the moment. Wait until a clear direction is revealed or what you really want arrives.
---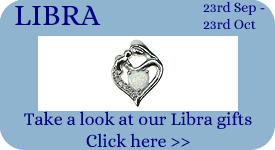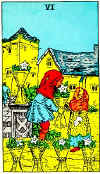 6 of Cups - Though you will be surrounded by that which will be satisfying, you will not be fulfilled or content, and your heart will cry out for something to quell your loneliness or fill a void. Though you've yearned for only one, you will have a transcendent experience that will open your heart to new possibilities. Relax, and let ideas come and go. When the right one comes, you'll know it.
---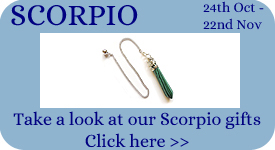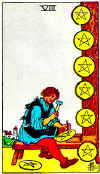 8 of Pentacles - You will begin a new project or venture and some of your ideas will be backed by someone who will provide tangible assistance or an offer of sponsorship. Don't try to force issues; wait for things to change. This is not a time to assert yourself. If you try, you won't get what you're after or will lock horns with your peers. If you just sit tight, you will gain considerable help or means. Love may be difficult to ground, but someone will light up your life (or be the best thing about life) and, if there's no one special now, you'll attract romance like a bee to honey.
---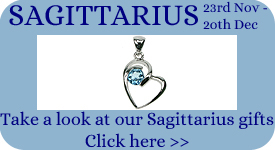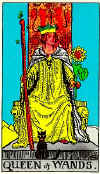 Queen of Wands - You are charming and sympathetic. A fertile mind and loving spirit ensures your popularity. You are practical. A woman who is very versatile figures in your life right now. Not only is she able to run her own home efficiently, but she also has plenty of outside interests. She's a good hostess and people enjoy being with her because she's so lively, warm-hearted and fascinating to talk to. She's interested in other people and, as a result, is often the first person to hear people's tales of woe. Despite being very good-natured, she will soon set anyone straight if they try to take advantage of her. Try to take on her qualities and listen to her advice.
---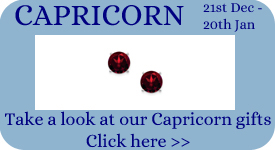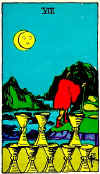 8 of Cups - You will embark on a new project, training course or moneymaking enterprise. Learn how to establish a link between yourself and God for times of crisis, and make an effort to remember your metaphysical principles. One way to do this is to still the questions or whys of your mind, and just trust. You can expect a stress-free but unfulfilling meeting with someone special. If, however, your relationship already exists, pent-up pressure or negativity may create feelings of alienation or cause it to sour.
---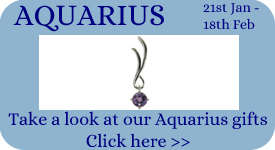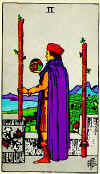 2 of Wands - This card represents someone who knows that they're doing and who is being given a tremendous opportunity. This may be you or a person you'll soon be dealing with. Either way, this is someone who knows they're in a strong position and acts accordingly. There could be a business partnership on the way, or you may soon start negotiating over a property deal. You are responsible and mature. Your force and will turns ideas into reality. Your motives are noble.
---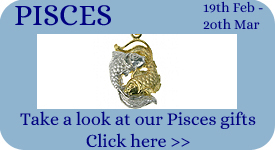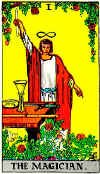 The Magician - There are new opportunities that will enable you to show off your talents, demonstrating your originality and inventiveness. It's time for you to forget false modesty and to strike out in a new, dynamic and bold direction, to capitalise on your intuition, imagination and creative skills. Such a fresh start shouldn't be entered into lightly – there's often an element of trickery or doubt, or a difficult choice may have to be made. This card is particularly auspicious for business ventures and financial matters because it shows that you have what it takes to succeed. It can also signify an important man who will enter your life, perhaps as an advisor, friend, lover or business associate. He will be extremely aware of the power he yields.
---
Legal Disclaimer: Under UK law, horoscopes and readings are deemed to be for entertainment purposes only and do not represent legal, financial, medical or other specialist advice.