ARIES LIFESCOPES



Although the day you were born establishes your zodiac sun-sign, as each year passes you will begin to feel more of the influence of the next signs. This is due to the Astrological process called Chart Progression, where each year of your life is equivalent to one sun-sign year. This doesn't mean that you become a different sign or should read another sign's horoscope. If you were born between 21st March and 20th April you will always be an Aries. But the signs that follow yours will exert their influence on you at different periods in your life and help shape your destiny.

To discover the other signs' effect on you, on the calendar below, find your birth date and count forward one day for each year of your age. For example, if you are 20 years old and were born on 1st April counting forwards 20 you would arrive at 21st April - indicating that from your 20th birthday you will begin to feel a Taurean influence. You would begin to feel the Geminian pull from your 51st birthday and Cancer's influence from your 82nd birthday. Discover the sign that's currently influencing you and read your lifescope below!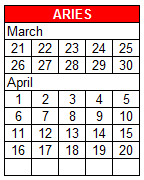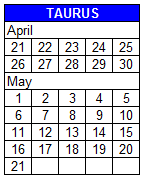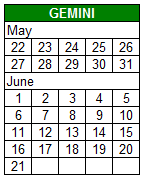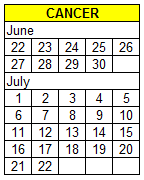 Sun-sign Aries with Aries Lifescope Influence

From the moment you took your first steps you knew you were going places. You live in the here and now, make friends easily and your social circle is ever-widening. You are driven by the will to win, but you do need to learn with a good grace! You're full of courage, dynamic, open and impulsive. You are also a strong love- magnet and a fierce and forceful personality. Others are drawn to you but your quick tongue and temper can cause tears.

---

Sun-sign Aries with Taurus Lifescope Influence

Natural impatience and intolerance give way to a more gentle influence at this period in your life. A few close friends will mean more that a dozen fun-loving pals, one true love more than a dozen flirtations, and home becomes your refuge from the hive of activity that you tend to generate. You take time now to explore relationships and the realm of the senses, and inspire adoration with your innate drive and growing tendencies. Your seniors now trust you; younger people often idolise you.

---

Sun-sign Aries with Gemini Lifescope Influence

You confound all expectations in this thrilling and fascinating phase. A shift in personal circumstances is matched by a shift of gear, as you go all out to achieve your heart's desires. A potent mix of maturity and evergreen vigour lends you double the appeal, and there could be a second flowering of romance. But do check restless urges - don't lose touch with your values. Add all you can to the sum of your life and hold onto all that is good.

---

Sun-sign Aries with Cancer Lifescope Influence

Caring and contentment are the key words during this phase. You have achieved so much, but there's no time to put your feet up as you are sought after for your wisdom and experience. You may find yourself at the very heart of a new family or the community, and will have deep reserves of love to give to others - perhaps to one very special other. Then, who says you can't live on memories? Your own could form the basis of a great book - a true romance no doubt!

---
---
Legal Disclaimer: Under UK law, horoscopes and readings are deemed to be for entertainment purposes only and do not represent legal, financial, medical or other specialist advice.
Shop our Aries Jewellery & Gifts Collection ... [see all]