GEMINI LIFESCOPES



Although the day you were born establishes your zodiac sun-sign, as each year passes you will begin to feel more of the influence of the next signs. This is due to the Astrological process called Chart Progression, where each year of your life is equivalent to one sun-sign year. This doesn't mean that you become a different sign or should read another sign's horoscope. If you were born between 22nd May and 21st June you will always be a Gemini. But the signs that follow yours will exert their influence on you at different periods in your life and help shape your destiny.

To discover the other signs' effect on you, on the calendar below, find your birth date and count forwards one day for each year of your age. For example, if you are 20 years old and were born on 2nd June counting forwards 20 you would arrive at 22nd June - indicating that from your 20th birthday you will begin to feel the Cancer influence. You would begin to feel a Leo pull from your 51st birthday and Virgo's influence from your 83rd birthday. Discover the sign that's currently influencing you, and read your lifescope below!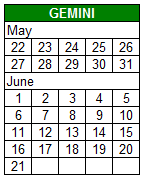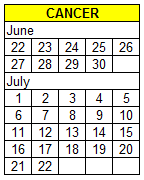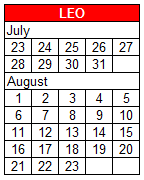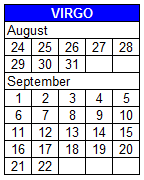 Sun-sign Gemini with Gemini Lifescope Influence

Friends and admirers flock around you and you thrive on admiration. But your boredom threshold is low and your expectations so high that you often feel thwarted, with an urge to stir things up. You are dangerously attractive and fickle, and may fall in love many times over. You have a gift for self-expression which can be used for good or ill - or profit - as you talk or write your way in and out of hectic situations. Your life is fun but nevertheless fraught!

---

Sun-sign Gemini with Cancer Lifescope Influence

You lose none of your get-up-and-go, but are more likely to commit now, provided your partner stimulates you. You listen more and talk less, hone your intuitive skills, and thus develop a deeper understanding of human nature. The mix of Gemini talents and drive, plus Cancer discipline can make for success in business or the arts, but Gemini's super ego and more subtle Cancer selfishness could make you hard to live with, so watch it!

---

Sun-sign Gemini with Leo Lifescope Influence

You are quite irresistible now, exuding sex appeal. The Gemini-Leo combination is one of the hottest in the zodiac, and this is the best chance that you will have to make a fortune, which you will lavish on friends, family and fast living. A true romantic, fiery and passionate, you could meet the love of your life - or enjoy a delirious second honeymoon with a long-term partner. Only your own vanity and a childish streak can undermine you now.

---

Sun-sign Gemini with Virgo Lifescope Influence

All that you have been, all you have done so far could have been leading up to this - a phase of achievement and refinement. Your appetite for life is undiminished, but you also have a thirst for knowledge and creativity. Romantically you are very settled, content that you have made the right choice - or choices. And physical love becomes deeper and more satisfying than ever, And it helps to keep you fit and agile, too!

---
---
Legal Disclaimer: Under UK law, horoscopes and readings are deemed to be for entertainment purposes only and do not represent legal, financial, medical or other specialist advice.
Shop our Gemini Jewellery & Gifts Collection ... [see all]