SAGITTARIUS LIFESCOPES



Although the day you were born establishes your zodiac sun-sign, as each year passes you will begin to feel more of the influence of the next signs. This is due to the Astrological process called Chart Progression, where each year of your life is equivalent to one sun-sign year. This doesn't mean that you become a different sign or should read another sign's horoscope. If you were born between 23rd November and 21st December you will always be a Sagittarius. But the signs that follow yours will exert their influence on you at different periods in your life and help shape your destiny.

To discover the other signs' effect on you, on the calendar below, find your birth date and count forwards one day for each year of your age. For example, if you are 20 years old and were born on 2nd December counting forwards 20 days you would arrive at 22nd December - indicating that from your 20th birthday you will begin to feel a Capricorn influence. You would begin to feel an Aquarian pull from your 50th birthday and Pisces' influence from your 79th birthday. Discover the sign that's currently influencing you, and read your lifescope below!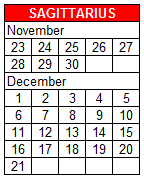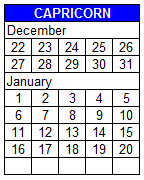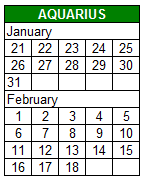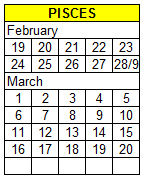 Sun-sign Sagittarius with Sagittarius Lifescope Influence

You breeze through life in the belief that everything is for the best in the best of all possible worlds. Your optimism, love of freedom and good humour make you fun to be with, and friends and lovers flock to you. But though you shine at school and have a thirst for knowledge, you can be a bit unfocussed in your early adult years, as you like to take gambles in work and love. The lover who tries to cramp your style will be a loser.

---

Sun-sign Sagittarius with Capricorn Lifescope Influence

Scrupulous and disciplined, Capricorn will keep you on the straight and narrow. This is a more auspicious time to enter a relationship, or forge a career, as you roll up your sleeves and get down to business. While you gain a lot, not least financially, watch that you don't lose your sense of fun. In any case, you will rise to dizzier heights if you mix creative flair and attention to detail. And that goes for love, too, as you raise your game and refine your technique.

---

Sun-sign Sagittarius with Aquarius Lifescope Influence

Now your personality is fully realised. You still brim with ideas and enthusiasms, but take a more relaxed approach to life. You were always generous and happy to splurge on friends but, with humane Aquarius on board, you will want to do some good for your fellow man, animals and the planet. You have an urge to cut loose and may quit a steady job for your own venture. It's all change on the love front, too, which might mean a new partner or a new way of living with your soul mate.

---

Sun-sign Sagittarius with Pisces Lifescope Influence

You are a mature student at the University of Life, and there is much still to be learned. You're drawn to live near water, where you discover an ear for music and a talent for painting. While you feel complete in yourself, you luxuriate in the love of a true companion and soul mate - be it a childhood sweetheart or someone unknown. You're active and look far younger than your years, but it is for your wisdom, enlightenment and compassion that young people seek you out.

---
---
Legal Disclaimer: Under UK law, horoscopes and readings are deemed to be for entertainment purposes only and do not represent legal, financial, medical or other specialist advice.
Shop our Sagittarius Jewellery & Gifts Collection ... [see all]