VIRGO LIFESCOPES



Although the day you were born establishes your zodiac sun-sign, as each year passes you will begin to feel more of the influence of the next signs. This is due to the Astrological process called Chart Progression, where each year of your life is equivalent to one sun-sign year. This doesn't mean that you become a different sign or should read another sign's horoscope. If you were born between 24th August and 22nd September you will always be a Virgo. But the signs that follow yours will exert their influence on you at different periods in your life and help shape your destiny.

To discover the other signs' effect on you, on the calendar below, find your birth date and count forwards one day for each year of your age. For example, if you are 20 years old and were born on 3rd September counting forwards 20 days you would arrive at 23rd September - indicating that from your 20th birthday you will begin to feel a Libra influence. You would begin to feel a Scorpio pull from your 51st birthday and Sagittarius' influence from your 81st birthday. Discover the sign that's currently influencing you, and then read your lifescope below!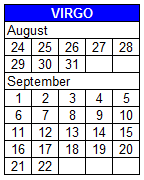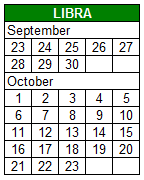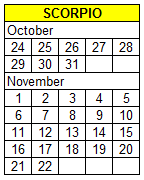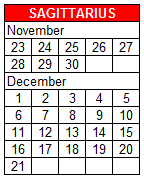 Sun-sign Virgo with Virgo Lifescope Influence

A sweet, obedient child and studious - sometimes moody - teenager, you enter the world of work with lots of qualifications. Then you're so personable, so organised, so smart - employers will snap you up. If only love was so easy! You may be too shy and inhibited for casual dating. You may simply be looking for a super- human. The good news is that you are an ideal soul-mate for someone outgoing and ebullient, who can appreciate your refinement and bring you out of your shell.

---

Sun-sign Virgo with Libra Lifescope Influence

What happens now is in the nature of liberation. You have driven yourself so hard to win success, you've missed out on fun. Your eligibility soars. when you let your hair down and learn to be more social, and a new fitness or beauty regime pays double dividends. If there is a problem, it is over- reaction. Don't let relaxation slide into laziness and risk losing all you achieve. If you're married, you will appreciate your partner more. If you're still looking, it could be that love finds you!

---

Sun-sign Virgo with Scorpio Lifescope Influence

If Libra wrought subtle changes, Scorpio will blow you away! You cope with the wild emotions, but need time to adjust to the new, fiery, resourceful you. You start to demand - and get - the recognition and rewards you're due. If promotion once scared you, you go for it now. Then you really discover deep passion and the senses. Never knew you were a sex bomb, did you? Yet someone finds you oh so attractive. You'll enjoy a wild flirtation - or a new frisson with your life partner.

---

Sun-sign Virgo with Sagittarius Lifescope Influence

A philosopher and free spirit, Sagittarius shows you new possibilities. The rat race years are over. Now travel, reading and writing fill your time. You may explore new cultures and beliefs, endlessly fascinated. You're less pernickety, less rule-bound, even joyously eccentric. A lover or partner will have such pleasure in your company (there's so much to talk about!) You shed your inhibitions and, suddenly being so active, will feel fitter than you have in many years.

---
---
Legal Disclaimer: Under UK law, horoscopes and readings are deemed to be for entertainment purposes only and do not represent legal, financial, medical or other specialist advice.
Shop our Virgo Jewellery & Gifts Collection ... [see all]